Outfit #1: Patterned dress+ velvet pants+ boots+ colored coat+ sunglasses.
A great way to get more wear out of patterned dresses is to tuck them into pants and wear them as shirts. I paired mine underneath a pair of black, velvet pants. The texture of these pants creates a great, luxurious vibe. I threw on a colored coat to keep warm and a pair of combat boots to add a bit of edge to the look. Cat eye sunglasses and a camera case finished off my look. This outfit is perfect for days spent shopping or relaxing at home.
Outfit #2: Patterned dress+ solid colored blouse+ knit duster sweater+ cozy scarf+ sunglasses.
Another way to get more use out of patterned dresses is to wear them as skirts by layering on blouses and sweaters over them. I styled a dark green blouse over my leaf print dress and added a long sleeve knit cardigan and sleeveless knit duster sweater over top of that. A fringe scarf kept me cozy. My feet were decked out in a pair of slouchy black socks and a pair of oxfords. Quirky heart sunglasses completed my look. This look is totally pragmatic for the cold weather and can be worn everywhere from the library to school to work (depending on your job.)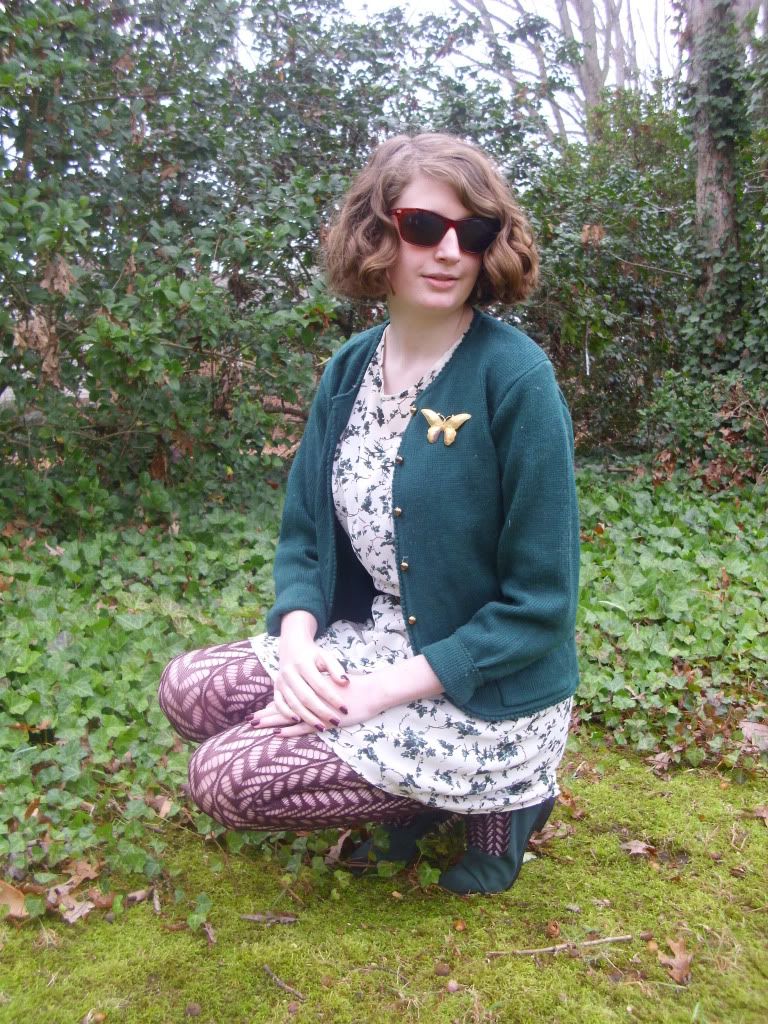 Outfit #3: Patterned dress+ colored cardigan+ colored flats+ fun tights+ sunglasses.
Of course, you can always wear your dress as a dress. One way to wear a patterned dress in the winter is to pair it with a warm sweater and tights. Sunglasses and simple flats were also added to the look. In addition, I styled a butterfly brooch with the look to give it a vintage vibe. This outfit was perfect for a day spent working at Justice and would also be great for blogging or walking your dog.
Outfit #1 details:
Leaf dress: Urban Outfitters
Velvet pants: Vintage Ralph Lauren
Green coat: Delia's
Sunglasses: c/o
Giant Vintage Sunglasses
Combat boots:
Target
Camera case: Vintage
Outfit #2 details:
Leaf dress: Urban Outfitters
Long sleeve black sweater: Forever 21
Black sleeveless duster sweater: Vintage
Tan scarf: c/o
Lulu's
Heart sunglasses: c/o
Giant Vintage Sunglasses
Green blouse: Vintage
Socks: Betsey Johnson
Black oxfords: Vintage
Outfit #3 details:
Leaf dress: Urban Outfitters
Green sweater: Vintage
Butterfly brooch: Vintage
Brown tights: Delia's
Green flats: Vintage
Sunglasses: c/o
Giant Vintage Sunglasses
Belt: Thrifted