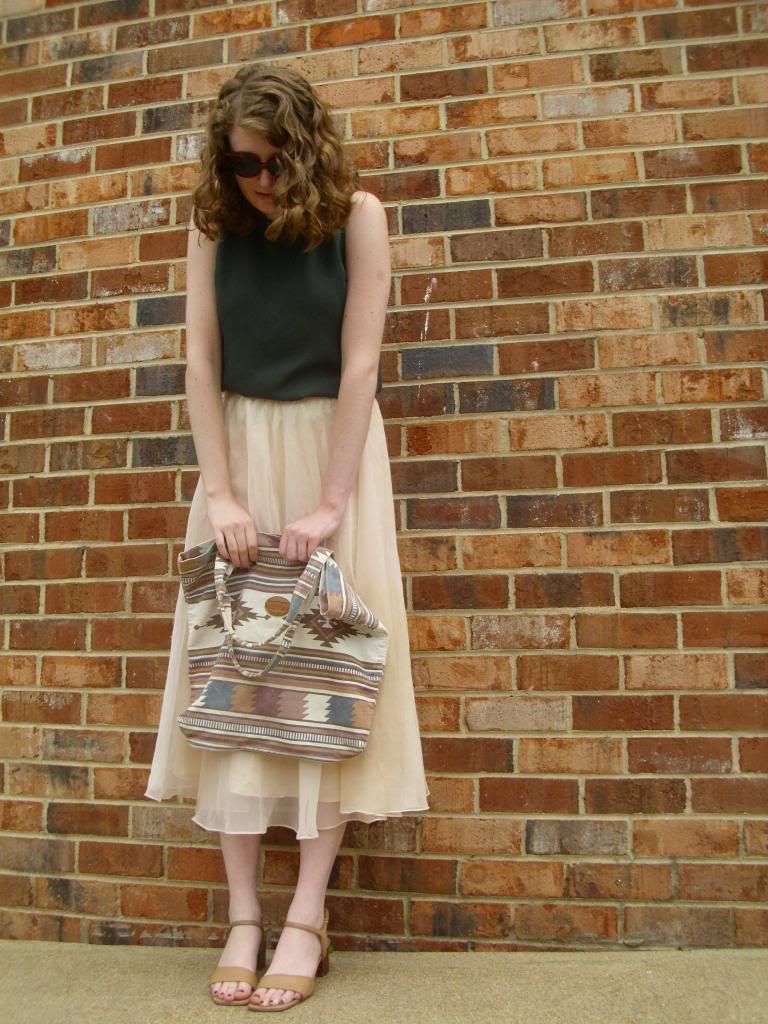 Hello! For today's look, I played around with neutrals. If you have been following my blog for a while then you know that I adore neutrals. I just cannot get enough of them! I began my look with this flow-y, cream-colored skirt. The way that it blows in the breeze has me absolutely swooning over it!
I paired the skirt with a dark green blouse. I could seriously wear this blouse every day. Perhaps that is because the forest green color (of the blouse) currently holds the title of my favorite color. I accessorized with this tribal print tote. It effortlessly pulled all the colors in this look together. My outfit was completed with a pair of dark tortoiseshell cat eye sunglasses and tan heeled sandals.
Oh and I cannot forget to mention my
black nail polish
! Recently, I joined
Influenster
and signed up for the
Sunkissed VoxBox
. The Sunkissed VoxBox is a free box full of beauty goodies for review via social media (on Facebook, Pinterest, etc.) When I saw that this beauty box arrived, I was delighted! I have never gotten any type of box like this before and was ready to delve into the wonderful products that the box contained.
There were four items in the box:
Fresh Effects BB Cream, Dr. Scholls high heel insoles, Goody "Ouchless" hair elastics and a bottle of Sinful Colors nail polish
. In the photos above, I am wearing my
SinfulColors SinfulShine nail polish
and I must say that I love it! The color that I am wearing is called
"Dark Room."
It is very easy to apply and is holding up pretty well so far- no chips. However, what I love most about this nail polish would have to be the
glossy sheen
. Talk about a great addition to any look! You can pick some up at your local
Walgreens
for just $2.99.
Tribal tote: Vintage
Cream skirt: Vintage
Green shirt: Vintage
Heeled sandals: Vintage
Cat eye sunglasses: c/o
Giant Vintage
Black nail polish:
SinfulColors
c/o
Influenster
***I received these products (the nail polish) complimentary from Influenster for testing purposes.