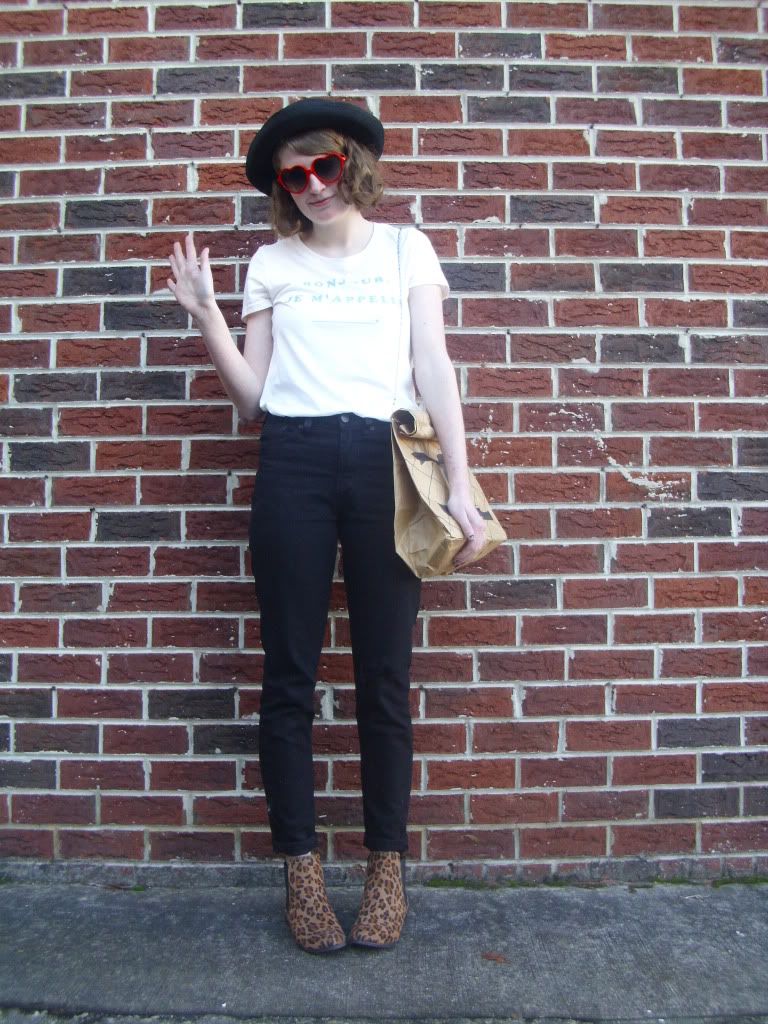 Bonjour! Snow one day and tee-shirt weather the next perfectly describes Richmond's bipolar weather.
For today's relatively warm weather, I chose to wear a graphic tee which is a rare occurrence for me. However, when I saw this one resting on a lonely hanger at Forever 21, I knew it had to be mine. Decorated with the phrase "Bonjour, je m'appelle ______." this is the perfect quirky tee. For those of you who don't speak French (like myself), the saying translates to "Hello, my name is _______." While shopping, my friend, Brittany, had to translate the phrase for me. Thanks, girl! When I tried it on, it fit perfectly and I immediately dished out the $2.50 for it. You can't lose with the Forever 21 sales rack!
I kept my look simple today by pairing the tee with a pair of black BDG denim. Of course, I needed a dash of leopard print which is where these urban boots come into play. I also styled a faux Chanel bag with this look. For some reason, I just love this bag. Perhaps my love stems from the humor the bag can bring to a look or because it is such an out of the box idea.
Today wasn't my best hair day, so I threw on this vintage hat as a temporary solution. Basically, if I am having a bad hair day, I instantly look to my collection of hats for help. Being that my hair is so short, there isn't much else I can do; if I want to put my hair up, at least 5 bobby pins are required. This vintage hat not only covered up my bad hair day but also added the perfect touch of vintage to my look.
Finally, I grabbed a pair of red heart sunglasses for a bit of a "wow" factor. Hope that you all are enjoying your weekend!
Black denim: BDG (
similar
)
French tee: Forever 21
Leopard print boots:
Target
Hat: Vintage (
similar)
Faux Chanel:
DIY
Heart sunglasses: c/o
Giant Vintage