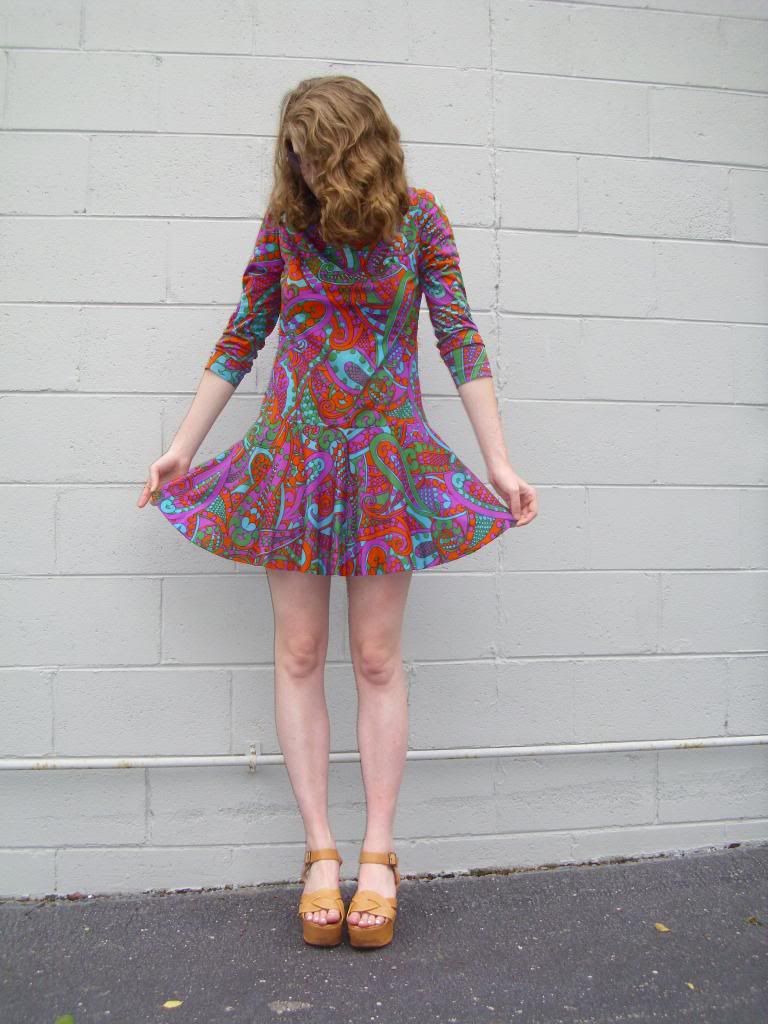 Hello! My look today was inspired by 1960's pop culture and sixties icons such as Twiggy and Jean Shrimpton. In fact, I even mimicked Twiggy's makeup routine by painting on bottom lashes with liquid eyeliner.
I styled my
sixties inspired
look around this
vibrant, kaleidoscopic dress
. This psychedelic dress is probably one of the
best vintage items that I have ever purchased
. While out at a large yard sale (held inside a church/school) last Saturday, I spotted this dress out of the corner of my eye. At first, I could only partially see it as my view of most of the dress was obscured by a frumpy black jacket hanging over top of it. However, the second that I got a glimpse of it, I immediately grabbed it off of the hanger. As I began to inspect it, my belief that the dress may be from the 1960's was confirmed.
Trippy print?
Check.
Mod shape?
Check. To my delight, the dress
only cost $1
! The fact that I got this stunning dress from the sixties for just $1 is still hard to wrap my head around. Even better, the dress fits me perfectly. I mean, could it get much better than that?
Transparent heart sunglasses and chunky flatform wedges accompanied my psychedelic dress.
Dress: Vintage 1960's
Flatforms: Steve Madden