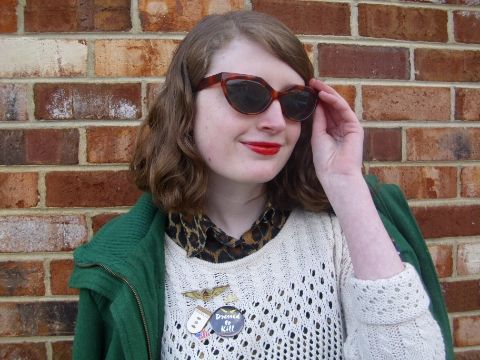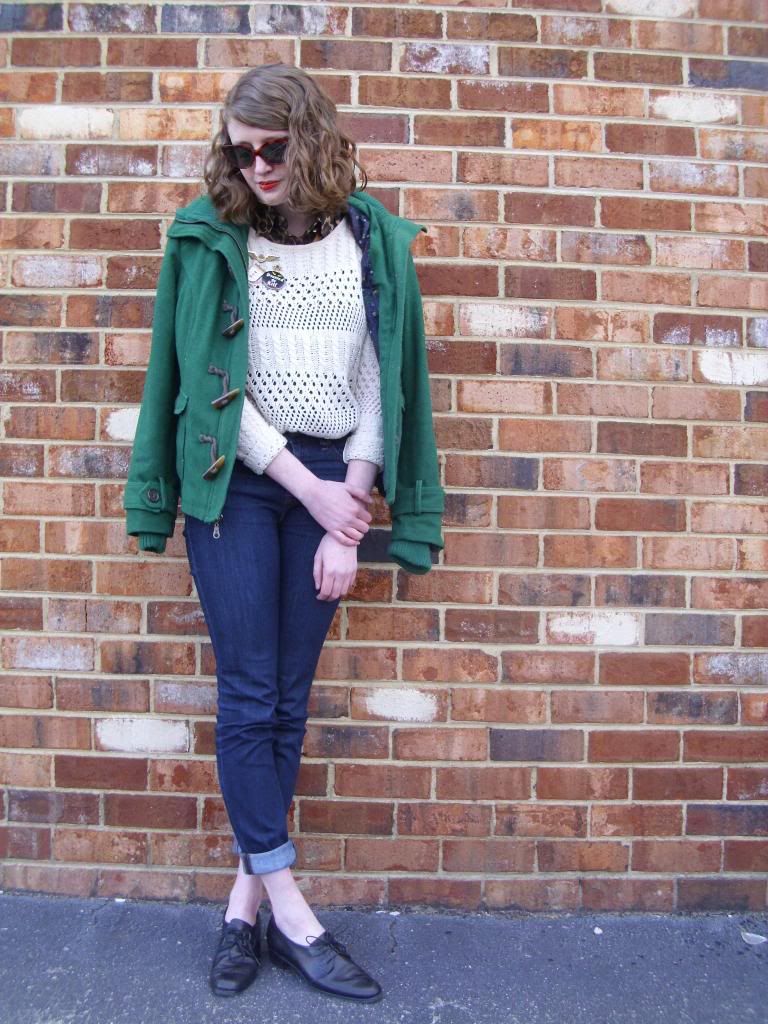 Hello! This outfit was actually from sometime last week but I am just getting around to blogging about it. My schedule's been quite busy this week.
For once, I decided to opt for jeans rather than a feminine skirt or dress. A leopard print sleeveless button down was styled with the jeans. Due to the cold weather (we even got a sprinkling of snow!), I decided that layering was a must so I began by slipping a cream colored sweater over the leopard print blouse. I love the way that the collar of the blouse peeks out over the sweater. It is just such a fun detail! Other fun details in this look? My quirky ensemble of pins. A multitude of pins including an American flag, "Dressed to Kill" pin and an airline pin were paraded about on my sweater. It seems as if lately I cannot resist pins- especially vintage pins.
I needed yet another layer so I chose to add a pop of color to my look with this deep green coat. So simple yet so stylish! I had been planning on wearing a pair of open-toe heels but the second that I looked outside, I knew that I needed to go for either a pair of flats or boots. My black oxfords were chosen for their comfort and sleek beauty.
Tortoise-shell cat eye sunglasses and red lip gloss completed my look. This lip gloss is for sure the cat's meow! Repeatedly, I have found myself reaching for it this month. What can I say? Red lips are my thing!
Green coat: Delia's
High rise denim: BDG via Urban Outfitters (
similar
- on sale!)
Black oxfords: Vintage (
similar
- on sale!)
Cream sweater: Forever 21
Leopard print blouse: Vintage
Assorted pins: Vintage
Cat-eye sunglasses: c/o
Giant Vintage