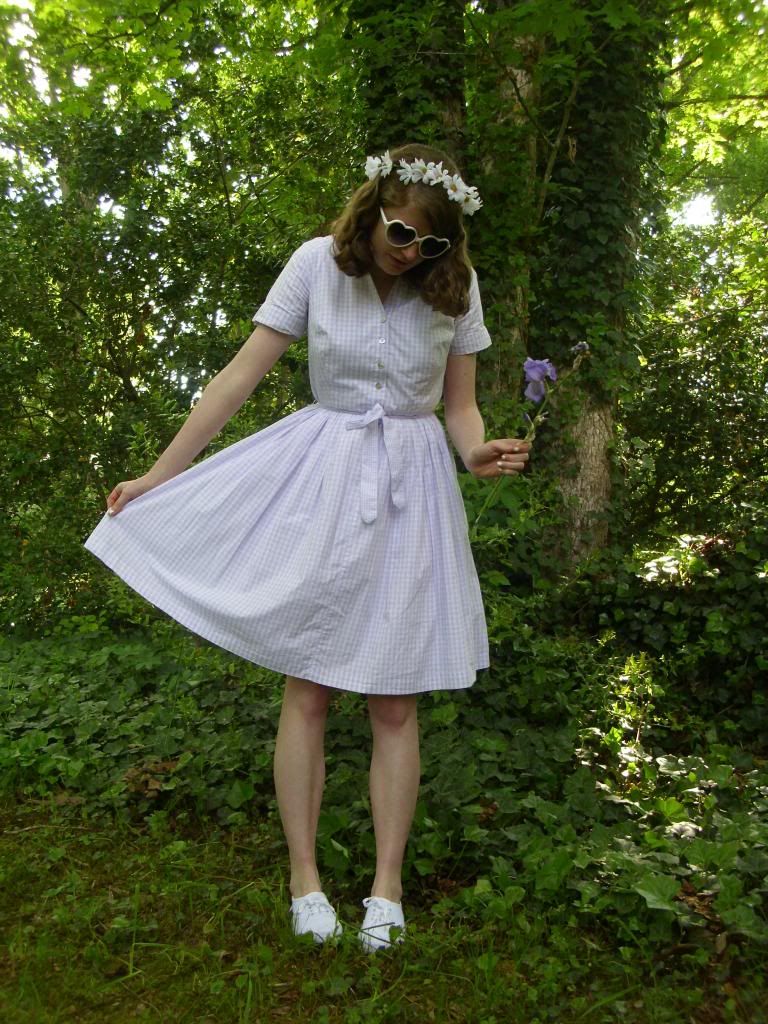 Hello! I hope that you guys have been enjoying
May
and the wonderful weather that May brings with it. I know that my posts have been few and far in between so far this month. However, I should (hopefully) be posting regularly throughout the rest of this month.
My outfit today embraced the
delicate pastels
that I am rather fond of. I styled my look around this
lilac & white checked dress
. One of the things that I like about this dress is the
retro shape
; it is very fitted from the waist up and from the waist down, the skirt of the dress flares out. I adore these
"fit and flare"
types of dresses for two reasons:
1. I cannot resist anything retro or vintage inspired! This dress style was widely popular in the 1950's.
2. The shape is very flattering to my figure. "Fit and flare" dresses immediately draw attention to the waist and legs.
To emphasize the
lightness of the colors
present in the dress, I donned a
pair of white canvas flats
as well as a
pair of white heart sunglasses
and
a white daisy chain
. The way the pastel colors combined to create a
light-as-air, dainty look
thrilled my aesthetic.
And of course, I had to grab an
ethereal, purple flower
to pose with for the photos!
Purple & white checked dress: Isaac Mizrahi for Target
White canvas flats: Wet Seal
White daisy chain: DIY
White heart sunglasses: c/o
Giant Vintage