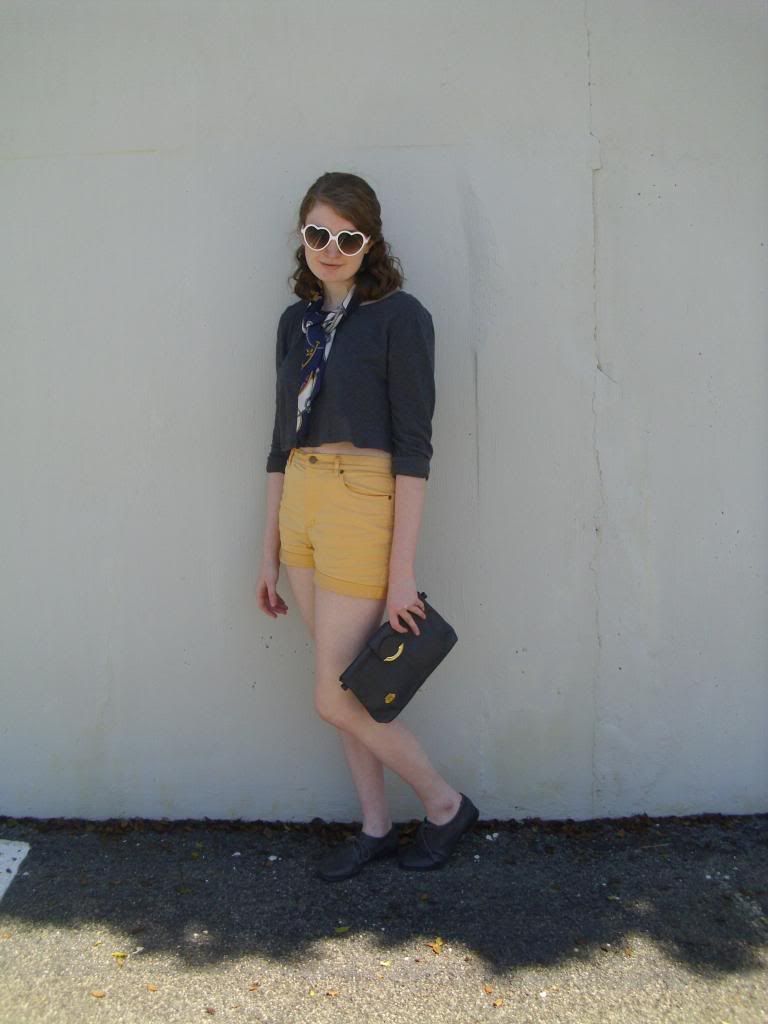 Hello!
Happy Memorial Day Weekend!
Memorial Day Weekend has always been one of my favorite weekends because it signifies the
beginning of the summer
(and commemorates those who have fought and died for the United States). The weekend is filled with
pool openings and other summer festivities such as BBQ's
. It also puts me in the
summer "mindset."
No longer am I thinking about essays, tests and projects but about sunny days and waking up late. And luckily, I only have one more week of high school left. Forever. It is kind of crazy to think about but I am just so ready to be done with high school! Yes, a lot of friendships have been formed and memories have been made but I am ready to begin the next stage of my life.
Hermes (hermès): A French brand responsible for the production of luxurious silk scarves among other things. Today, I
channeled my inner Parisian
and donned this
knockoff
Hermes scarf. Tied loosely around my neck, this
nautical scarf
is the perfect example of a summer scarf.
Who said scarves cannot be worn in the summer?
To emphasize the
golden-yellow
color present in my scarf, I slipped into a
yellow pair of high-rise shorts
.
High-rise shorts
always elongate my figure and therefore, are worn essentially on repeat during the summer. I played around with the proportions in this look and paired a gray
long-sleeve crop top
with my high-rise shorts. Pairing cropped tops and high-rise bottoms will never get old in my book! Like my yellow shorts, my
white heart sunglasses
brought out the colors (white this time) in my light-weight scarf.
Basic gray oxfords
and a
gray clutch
completed my look.
Now a little more about clutches in general and this specific clutch....
There are
three main reasons for my appreciation of the clutch
.
1. Clutches make shopping a whole lot
easier
as I find them very convenient to carry around as I shop. I just tuck it under my arm and I am good to go. Very
hassle free
. No worries about it hitting something in the store or weighing down my shoulder.
2. They are the
perfect size
for holding everything that I need. Not too big, not too small; as Goldilocks would say, "just right!"
3. Clutches command
elegance and sophistication
.
This lovely clutch (featured above) has been in my possession for about a year and a half now (first worn on the blog
HERE
). The second that I saw it lying upon the shelves of my favorite thrift store, I knew it had to be mine. It is
vintage Etienne Aigner
and cost less than $10. It's odd to ponder how some of the items in my wardrobe are much older than I am. This clutch is likely from the 1950's which means that it has been around for more than 40 more years than I have. Interestingly enough, I find that notion rather appealing.
This clutch has proved to be a
timeless piece
that I foresee will remain with me for the rest of my life. It absolutely breathes
grace and poise.
Yellow shorts: Vintage
Gray crop top: Forever 21
Nautical scarf: Vintage
Gray clutch: Vintage Etienne Aigner
Gray oxfords: Forever 21
***I am linking this post up to
IFB
's Weekly Project,
"Carry Your Clutch."
If you are a blogger and aren't yet a member of
IFB
, I would definitely recommend that you look into setting up a (free) account. Daily, I check
IFB
for the latest fashion blogging news and advice.
IFB
is filled to the brim with helpful tips and tools for bloggers. I could spend days telling you about
IFB
but it will be more fun for you if you explore it yourself. If you have any questions about my experience with
IFB
or something along those lines, post them in a comment below and I will try to answer it.